Smith & Wesson Soars to Eight-Year High on Gun Control Talk
Smith & Wesson Holding Corp. jumped to an eight-year high and Sturm Ruger & Co. climbed on investor expectations that gun enthusiasts will purchase more pistols and rifles as calls for restrictions increase.
The gunmakers' shares have advanced in recent years in the wake of mass shootings like the one in California last week that have led to stepped-up efforts to restrict ownership. Sales for both companies have increased as people stockpile weapons in response to politicians' demands for tougher legislation. The political efforts have all fizzled.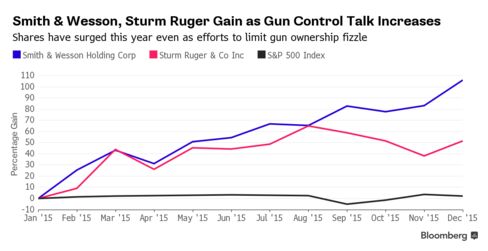 "The No. 1 driver of firearms sales is fear," said Brian Ruttenbur, an analyst at BB&T Capital Markets, pointing out that all the Democratic Party presidential candidates have discussed tightening gun control. "Primarily, fear of registration restrictions, banning and things like that."
Concern for personal safety is also driving demand, Ruttenbur said. Unrest in Baltimore and Ferguson, Missouri, had led people to purchase firearms — a movement that has been refueled by a fear of domestic terrorist attacks after last week's shooting that killed 14 and wounded 21 in San Bernardino, California.
"It's kind of a double whammy," he said.
Background Checks
Background checks by the Federal Bureau of Investigation rose 7.7 percent in November from a year earlier, according to Ruttenbur, citing adjusted figures published by the National Shooting Sports Foundation trade group. Checks for handguns rose 22 percent. FBI background checks are the best proxy for gun sales because there are about 200 manufacturers, most of whom are closely held, Ruttenbur said.
Thomas Dineen, the chief financial officer of Sturm Ruger, didn't return a voice-mail message. Liz Sharp, vice president of investor relations for Smith & Wesson, didn't return requests for comment.
Smith & Wesson, whose brands include M&P and Thompson/Center Arms, surged 7.6 percent to $20.44 in New York, its highest closing price since October 2007. The shares have doubled this year. Sturm Ruger, maker of Ruger American, Gunsite Scout and Hawkeye weapons, increased 5.9 percent to $57.50, its biggest jump in a month. The stock has climbed 66 percent this year.
Syed Rizwan Farook and his wife, Tashfeen Malik, who officials say were inspired by Islamic State ideology, opened fire on a office holiday party in San Bernardino on Wednesday, killing 14 and wounding 21. The couple was tracked down the same day and killed in a shootout with police.
Assault Weapons
President Barack Obama, speaking from the Oval Office Sunday night, called the shooting an act of terrorism and discussed plans to combat the threat, in part by increasing airstrikes of the Islamic State. He urged Congress to block people on a no-fly list from buying guns and said it should become more difficult to buy "powerful assault weapons like the ones that were used in San Bernardino."
Concern over stricter gun laws has waned after no action followed the Sandy Hook Elementary shooting three years ago, in which 20 children and 6 adult staff members were killed down by a lone gunman, said Christopher Krueger, an analyst at Lake Street Capital Markets LLC.
"There will be a sustained uptick in gun sales, not necessarily because of the potential laws, but because people are worried about these actual events and being defenseless," he said. "Most people know there probably won't be any meaningful laws passed that would stop them to buy what they want."
'Frenzied Buying'
More women in recent years have been buying pistols that fit easily in purses for personal protection, and manufacturers have responded by selling pink guns. Growth in demand for rifles, which surged after the Sandy Hook massacre, hasn't been as strong lately, said Ruttenbur, of BB&T.
"You've got a really frenzied buying demand for inexpensive handguns," he said.
Still, people worry that the president could take unilateral action to disrupt the sale of guns, such as by slowing FBI background checks, he said. Those concerns have caused gun sales to double during the Obama administration.
"He has been the best thing for gun manufacturers," Ruttenbur said. "He's really not doing anything except driving sales right now."